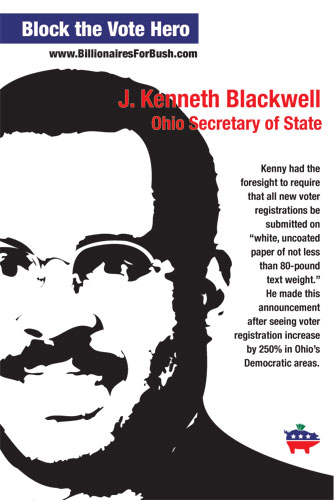 Ohio Attorney Files to Lift Stay on '04 Election Case, Cites Allegations, Evidence of Massive Fraud by a Number of GOP Operatives
At a press conference this morning in Columbus, Ohio, Cliff Arnebeck, lead attorney for the plaintiffs in the case of King Lincoln Bronzeville v. Blackwell, announced that he is filing a motion to "lift the stay in the case [and] proceed with targeted discovery in order to help protect the integrity of the 2008 election."
Arnebeck will also "be providing copies of document hold notices to the U.S. Chamber Institute for Legal Reform and the U.S. Justice Department for Karl Rove emails from the White House."
This case has the potential to put some of the most powerful people in the country in jail, according to Arnebeck, as he was joined by a well-respected, life-long Republican computer security expert who charged that the red flags seen during Ohio's 2004 Presidential Election would have been cause for "a fraud investigation in a bank, but it doesn't when it comes to our vote."
"This entire system is being programmed in secret by programmers who have no oversight by anybody," the expert charged, as Arnebeck detailed allegations of complicity by a number of powerful GOP operatives and companies who had unique access both to the election results as reported in 2004, as well as to U.S. House and Senate computer networks even today.
The presser was attended by some of the corporate-controlled media, including the head of the Ohio AP bureau, the Columbus Dispatch, and IndyMedia. Listening in by phone were ABC News, our friends from RAW STORY, and I, your humble blogger. I recorded the presser, so I have no links for the quotes in this post, but I transcribed them word-for-word and can vouch for their accuracy.
One of the more delightful and interesting quotes comes from Arnebeck, concerning what he expects to discover as the stay is lifted: "[W]e anticipate Mr. Rove will be identified as having engaged in a corrupt, ongoing pattern of corrupt activities specifically affecting the situation here in Ohio."
Map of sudden election changes in Ohio in 04
Previous article on Ohio Election fraud in 2004
Not Diebold, but Traid, did it:
December 15, 2004
As part of the Democratic staff's investigation into irregularities in the 2004 election and following up on a lead provided to me by Green Party Presidential Candidate, David Cobb, I have learned that Sherole Eaton, a Deputy Director of Board of Elections in Hocking County, Ohio, has first hand knowledge of inappropriate and likely illegal election tampering in the Ohio presidential election in violation of federal and state law.